Blogs always need Awesome,Elegant,SEO Friendly and Responsive Design that will attract readers.Nowadays if you don't have knowledge that how to create template then there are many awesome sites are available on the internet that provide uniquest and awesome templates ever and many of them are providing free blogger templates.Are you finding template for your blog and tried a lot but can't find a Professional template yet? then you are in right place because we're mentioning below Awesome and Professional looking blogger templates.So let have a look below and check out and chose one of them below.
Brand Mag UX
This template is from Templateism.com Team.This template has a Uniquest design,Sticky Navigation Bar like Android User Interface,Responsive which will support all devices like Android,IPAD,IPhone,Mac,Laptop,Desktop and all the devices and This template has a Awesome Slider which will help webdesigner and developers who want to show their work or art work and this template has a more great features that make it more Professional.

Awesome Mag
This is Also from the team of Templateism.com and its 1 week ago released by Templateism.I really like this template because of its Premium and Responsive Design.It's a Really hard worked template design and they are doing great job to make templates and change blogger into Professional platform.This template features also like Brand Mag Template but design is fully change like Grid Style Posts.So in my Opinion you can use it easily without any hesitation.
Geeks Gadget
This Template is Awesome template and also from Templateism.com and This template is using by many Probloggers like Bloggeryard.com but they customize it with good CSS designing.and Now a days many newbies is using this template because it is looking like WordPress so visitors mind will twist and they will think that site is on blogger or Wp? This template is fully SEO friendly which means you'll get good amount of visitors in Google and no need to do On-Page SEO.
Sight
This Template is Created by SoraTemplates.com and It's really great template by SoraTemplates.com.It was used by Pro Blogs like DigitChruch.com.It has a Grid Style Posts,Right Sidebar,2 Column,Slider and Top Navigation Menu which make it fully responsive.
BlogZin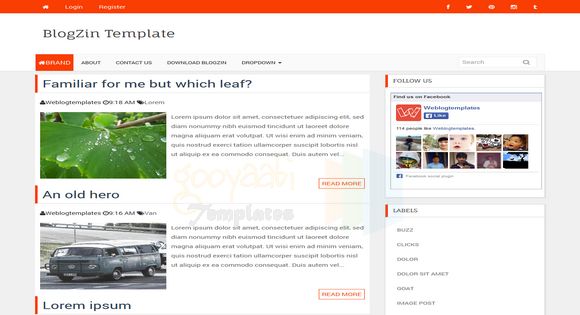 This Template is Our last template and its just awesome template and it has drop down menu,2 Column Template,Email Subscription Widget and its Responsive too.So I think it will use by Newbies.